Bookleggers and Smuthounds
Between the two world wars, at a time when both sexual repression and sexual curiosity were commonplace, New York was the center of the erotic literature trade in America. The market was large and contested, encompassing not just what might today be considered pornographic material but sexually explicit fiction of authors such as James Joyce, Theodore Dreiser, and D.H. Lawrence; mail order manuals; pulp romances; and "little dirty comics." Bookleggers and Smuthounds vividly brings to life this significant chapter in American publishing history. Jay Gertzman offers unforgettable portrayals of the "pariah capitalists" who shaped the industry, and on the individuals, organizations, and government agencies who sought to control them. Among the most compelling personalities we meet are the notorious publisher Samuel Roth, "the Prometheus of the Unprintable," and his nemesis, John Sumner, head of the New York Society for the Suppression of Vice, a man aggressive in his pursuit of pornographers and in his quest for a morally united-and ethnically homogeneous-America. If the book is about individuals and the books they published, sold, or seized, it is equally about prurience: how it affects the mind, how it has been used to make judgments about proper and illicit behavior, and how it has been used to make laws. Gertzman contends that publishers of erotica and the moralists who attacked them during the mid-twentieth century had a subtle symbiotic relationship.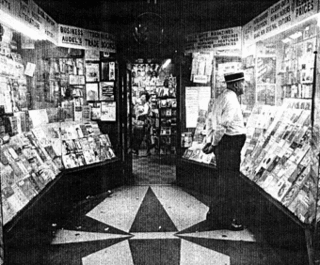 In downtown Philadelphia in June 1960, a "raiding party of five county detectives" and an Assistant District Attorney--followed closely by TV reporters and their cameras--visited my uncle Benjamin Gertzman's Bookazine book shop at 1528 Market Street, seizing 500 books. The owner had named his business, with permission, after the large New York City distributor. Bail for the clerk, his brother Isadore--my father--was set at $500.

Isadore was seen on the local TV news that night trying to move the NBC microphone far enough from his face to wave the police off the premises; he said they were "hurting his business." He remembered the tensions endured fifteen years earlier by Ben's close friend and partner Samuel Masover, who with four other Philadelphia booksellers was raided by the Vice Squad for carrying works by writers such as Erskine Caldwell, William Faulkner, James T. Farrell, Harold Robbins, and Jack Woodford. The booksellers were eventually cleared, thanks to a brilliant and influential opinion written by Judge Curtis Bok. My father now recognized that the book business had become no safer because of Judge Bok's sharp criticism of the connection between sexually explicit books and anti-social conduct, and that the de-censoring of Lady Chatterley's Lover may somehow have made those who carried such books more vulnerable.

The Assistant District Attorney stated that "the books sold at Bookazine would arouse any man, unless he were made of stone."  The case never came to court, the New York distributors agreeing not to circulate a sex pulp line in Philadelphia in the (near) future. By then, the District Attorney had weathered the political attacks made on him , which had--shortly before the raid--made headlines. Plenty of copies were available in any event, and could always be safely purchased at the local department stores.
Chapter 3
The New York Society for the Suppression of Vice
Chapter 4
Taste and Class in Obscenity Legislation
Chapter 5
Mail Order Erotica and the Post Office