Works
Please click on "blog" (upper right above) for recent entries on Jewish American literature
A collection (mine) of banned books
This is a link to a short essay I wrote about the book party for _Samuel Roth, Infamous modernist_, mostly regarding the books I displayed that faced censorship issues. Below is the info and invitation to the event.
If you are in or near NYC , I am having a book party to celebrate the paperback printing of my book. But it is also a recognition of the importance of freedom of expression. Attendees will include publishers, booksellers, and writers. There will be materials about Banned Books Week, Barney Rosset's unique mural which he created on the wall of his apartment, erotic filmmaking, and obscenity legislation. Books on display will include

-- controversial, sometimes banned related to careers of Lyle Stuart, Barney Rosset, Henry Miller, Sam Roth.

-- first or smuggled editions of Ulysses, Naked Lunch, Tropic of Cancer, Lady Chatterley's Lover.
-- ALSO: a reply by Mrs Portnoy to Portnoy's Complaint (funny)

CORNELIA STREET CAFE 29 CORNELIA ST IN THE WEST VILLAGE
AUG 12 6-8pm
**********************************************************
Back cover of the paperback (just bragging). This book is $34.95, or contact me (click "Contact" above right for Email, for generous discount).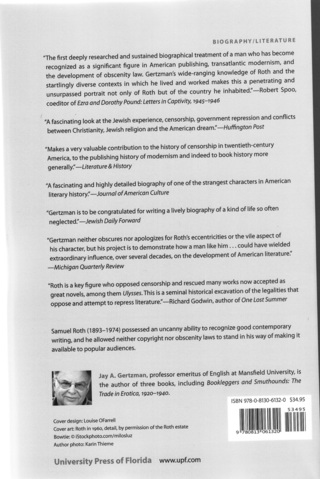 YOU TUBE INTERVIEW
Here is a link to my conversation with Dennis Miller, author (_One Woman's Vengeance_) and PR Director at Mansfield University. The interview covers Samuel Roth's enormous contrasts—as a poet, unscrupulous magazine editor, pornographer (a double pariah)—but also as a man who told unpleasant truths that made people in power vindictive. His belief in himself as a hidden wise man, with a mission he could not possibly complete, was both heroic and a sample of what the American Dream is.
https://www.youtube.com/watch?v=UnX8_odBDtk&feature=youtu.be
(see next line below for hyperlink [in purple])
NUSTSCHA -- sonnet sequence to a Jewish myth
The predominant form Roth mastered as a young poet was the sonnet. They appeared in Contemporary Verse, Minaret, the Boston Evening Transcript, and Poetry. The plain language Roth uses, and also his use of tiny stories and pinpoint images, are modeled after the narrative poems of the great Edwin Arlington Robinson, whose career Roth advertised in any way he could.
About fifteen years after Roth left his birthplace, which was a shtetl he mispronounced "Nustscha," the ill-fated, poverty-wracked country of Galicia was the scene of WWI battles and ethnic violence. These poems depict, as do the stories of Sholem Aleichem, S. Y. Agnon, I. L. Peretz, and other writers, a place of collective Jewish myth. From archetypical narrow lanes where people share not only space but a communal togetherness, immigration takes shtetl dwellers not to Jerusalem but to where their souls, as Roth puts it, "cry lonely through the lofty towers."
The overwhelming presence in the sonnets is the eponymous town itself, called forth in the first word and addressed directly in almost every poem. In the last line in the last poem in the sequence, the narrator is in tears. But they are not tears of sentimentality. The sadness is a universal adult response to the experience of loss and fallibility. It has also something of a traditional Jewish consciousness in the hints at self-reproach and patient humility: "One may come and beat / Loud at my door and clamor, and I shrink / To open lest he see how poor I am.These are the last two lines in the first sonnet. Here is the second:
2.
We were so tender and we were so young.
The gaiety that boldened in my feet
Was in your rock and grass, as firm as fleet;
And rock and grass make a heroic throng.
Over the gardens and the trees I flung
My voice, but you were just as quick to greet
The lightening in the cloud and the great beat
Of thunder on the hilltops lifting strong.
Did not your valley rise and fall with pride
When from an oaken bough one golden dawn
I sang like any bird on any tree
My song of songs? Oh, day went side by side
Over the forest with the new-born sun.
God give me strength to bear the memory.
TWO MORE SONNETS FROM "NUSTSCHA" (THE ACTUAL NAME OF THIS STHETL WAS USZCZE) .
#3:
I HAVE forgotten nothing, nothing lost.
The wealth is garnered and the guard is true.
I but unlatch the gate and follow through
The haunts of memory --O what a host
Of lovely and familiar-seeming ghost!
--.And I am with you, with the whole of you.
Yes, I can count them all, I may even woo
One all unnoticed then I love now most.
And who may he be? He who on a wall
Watched the boughs darken under drifting snow;
In every opening blossom saw an elf,
In every closed blossom felt the darkness swell;
And from each autumn leaf saw he light fall
Over the earth--a sad, strange lad--myself
#4
TO DREAM away a sabbath afternoon
Upon the hillside shadowing the lake
Wherein dim palaces of crystal wake
To view, and stay, and do not vanish soon;
And where the shadows thicken and the croon
Of weird night-spirits rises, and the break
Of silence is a thing of Terror's make
To stay and wait the climbing of the moon.
And then to climb down to the loam below
Where flowers and trees breathe softly lest they mar
The weaving of the universal mood,
And the joy perish and the wonder go;
In this sweet earthly night to be a star,
Oh, this was youth and love and brotherhood..
Roth as poet: at first admired, then ignored



A few words of intro: This poem is a pronunciation, the poet as prophet. It seems melodramatic, and over-wrought to us today, as if the speaker were grabbing the reader's shoulder like an ancient mariner. But think of the assurance, distinctly un-modern, that about 100 years ago people could respond to with the same conviction with which they might listen to a long speech—in person, for radio or TV would diminish it, from Teddy Roosevelt or Emma Goldman. It is made for a grand stage. The God who speaks is toil and blood, his work is made with a hammer and shaped in a fiery furnace. The universe of which he is "life and power" is full of death and bursting planets beyond and above joy and song. His own speech is full of anger at a people who forgot about Moses and destiny once he disappeared into the fire of a God who would not let him see His face, for that light would kill him.
SONG OF THE INFINITE (c. 1917; excerpts)
I am he who commands
The perils of all the world;
All thrones before me shake
For I have made all thrones;
Through the endless stretch of time
Through the endless course of things
Men live and work my will,
Men die and work my will;
And all the world is toil,
And all the world is blood,
And all the world is death,
That I alone may be!
I am the light and power
Of this boundless universe;
I m he light that rules,
The growth of all the worlds;
While flowers bloom and fade,
And men re born to die;
While suns do lose their light,
And planets burst in space,
I live on my life,
Singing the joy of Life,
Weeping the woe of Life
Through the endless course of things!
Have you heard him who came before me?
He who showed you the furnace in which you were wrought
And the hammer which molded your cunning?
Aye, his voice was as deep as thunder,
And his eyes were as sharp As lightning;
But his words fell on hearts of stone,
His words were not heeded. Therefore, rise thou up, my servant,
And speak to them;
Show them the furnace in which they were wrought;
And the hammer which moulds their cunning,
That they might know me
. . . .
For I would make them a nation of Priests
That my salvation may reach unto the ends of the earth,
Saith the Lord.
----------------------------------
Does this take place in a synagogue or prayer house? It seems to be set in eastern Europe, a small, isolated, silent town (shtetl) endangered often by rain, wind, and fierce storms
Is the stranger mocking the poet for using cliches of love poems about stones, hillsides, and roads,in order to tell the poet that he himself should be doing the lifting up and reaching out?
YAHRZEIT (c.1920)
And first he was a stranger in the door,
And then a wall between me and the sun,
And then a quiet voice which spoke to me.
and lifting up my head I spoke to him:
Brother, you ae as merciless as God.
Are not my days already filled with it?
Must I even remember to be sorry?
'It's not the time to talk such things,' he said,
And, saying, lit the yellow mourning lamps
And ranged them on the window sill and mused:
'The sky is black. Likely it will storm tonight.
And then he opened up the book and read:
'Upon this day the souls of the dear dead
Gather before the Awful Judgment Seat
To render an account of all their doings.'
Outside he night was full; the clouds hung low:
Sinuous quietness before the storm.
I turned my face to him. 'There is a spell
That binds me heart and soul. I cannot think.
I cannot feel.' 'It's time to rest,' he said.
And he lay there, and at his side I lay
While Furies shook the night, beating their wings
Against the window-panes on which the light
Wove shrouds and shrouds of yellow flickering sheen/
'You do not sleep, waking he spoke to me.
'I cannot sleep tonight,' I answered him.
'I cannot sleep or feel.'
I hid my eyes.'
'I know your pain,' he said and looked at me.
'She does not love you: Isn't that so?'
I mumbled, "That's so."
'Your youth is sad,'
He mused. 'You should love less and set your heart
On things more sacred than the love of women.
Now is it to be wondered you are dry?
You have not drawn upon the wells of God.'
"Where are the wells of God?" I asked of him.
'And if I tell you where they are,' he said,
'Will you leave this trollop to find them out?
Has living taught you nothing else but love
Do roadways lift themselves toward the skies?
Do stones roll passionately into brooks?
And have you ever seen a hillside lift up arms,
And reach out to the passing clouds for love?
You are a road, a stone, a hillside, brother.'
The mourning lamps flickered away and died.
Dawn rose over the town, over the rain.
And he uprose and prayed and went away.
SAMUEL ROTH'S MOST ADMIRED POEM



WHEN twilight charms the sunset into dusk
The singer comes. I do not know his step
Nor ever have I seen the form of him.
But when through darkening window-panes I reach
My vision for that straining star whose course
Was preconceived in me, and with me
I know must pass forever, I hear his voice:
Deep rhythm circling stern creation's path
And passing far beyond it—Kol Nidre!
A little silence—all is swept away; 10
And there are only God and nothingness
Myself besides, I who am more than God
And less than nothingness—for it is rest.
As from dissolving mists sudden appears
The city's countenance, so from these days,
Melting like mists away, rise clear and stern
The towers of the solemn days that were:
Dread days of reckoning whose shofar blasts
Like thunder, dawns of upturned faces, pleas
Like wrath of midnight storms, sing in my blood 20
Wakening memories long dead, best dead …
Two thousand years of listless wandering!
Ages without a battle cry! Lo, he
Who sings behind the wall is meek; the words
Flow gently from his soul, and you whose song
Is light, unburdened by our Elohim,
Cannot conceive the terrible despair!
But we who sing it know, for as we sing
We suffer. Every note a lash! Each word
A lovely daughter's shame! Ay, every verse 30
A noble city's doom of martyrdom!
And the whole song the story of a race
Which wrought God from itself and lost its soul.
Kol Nidre! and a hundred armies march
Retreat! A hundred armies bannerless and slow,
A far-flung shadow o'er the fields of earth,
March through my soul and will not cease. Give me
Your crucifix, children of Christendom,
The thing you hold up to the sun, and wail
And moan—your sign of suffering! 40
The dead have pride, and seeing it on me
Will go their way. Yet I'll not desecrate
The dead! Their pride—'twas all they had in life!
Kol Nidre! God! will this never have end?
These mighty trumpet blasts—for whom?—the dead?
They do not hear, I say.
The living? Lord! Have you no laughter left?
These living, straws out in your mighty storm,
They do not hear your storm, only the cries
Of bleeding lambs and drowning swine reach them. 50
But lo, the singer sings!—all I have lived
And will live yet, all that my race has lived
And will live yet. Listen! All laughter dies,
A knock upon my window-pane, fumbling
Black flapping wings, a voice wild with despair:
"Traitor!—what have you mused in Ascalon?"
Kol Nidre! So throughout the centuries,
Deep, beautiful and glorious to hear!
But what would you of me? Is there a path
You'd have me take? I've beaten every one! 60
A thousand roads are in my blood! What then?
Is it a call to fight? Battle with whom?
Amalak long is dead, the gentile gods
Are slain, and all their golden temples dust!
Perhaps it is a call to life? We long
Have ceased to live, wearied … Or is it death?
How shall we die who knew not how to live?
God! God! Save me from this despair! Hurl me,
If so you will, down the ravines of death,
Where every sunbeam is a thorn to prick,
And every flower is a wound to bear,
All loveliness a memory of wrath
And spirit madness! I'll not care! An end
Let be to all this waste! See, if I die
There is a heaven of stars goes down with me,
And if I live on …
Hush! the song ceases,
The singer goes, and with him the despair!
Go singer, go! far from this land! the draught
You offer—it is much too strong! Highways
Broader than these shall hear your song. For me 80
The dusk deepens, deepens—there is my star!
***************
This intense poem about history as nightmare: being caught up in a mystery one is not able to renounce or find one's way out of. God's command to Abraham regarding
the sacrifice of Isaac was the first such event. Hearing the chant on the eve of the
Day of Atonement brings to the speaker's mind armies "without a battle cry"
retreating, "wrath of midnight storms," shofars sounding days of reckoning
for heedless dead, ancient Israel losing its faith, lifelong anxiety.
Ascalon is a city in the Negev, site of both Philistine and Jewish atrocities during ancient wars. Guilt is as vivid as humiliation and confusion in Roth's poem; despair becomes a death wish.
The last stanza finds the singer moving on, and the speaker finds in the evening a star he knows is his, and only his, destiny "in stern creation." God is stern, but
also a star creator. There's an integrity, intensity, and natural human voice here that is a sign of a fine young poet.
******************************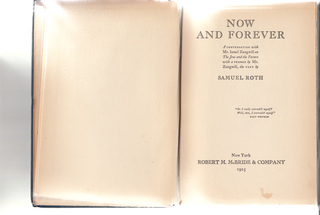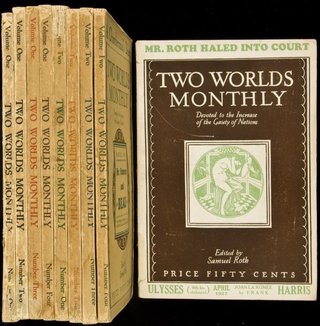 "By anyone's estimate, the biggest literary pirate of the 1920s." Why?





THE BIGGEST LITERARY PIRATE OF THE 1920S. WHY?
In his _The Most Dangerous Book: The Battle for James Joyce's Ulysses_, Kevin Birmingham makes the above assessment of Samuel Roth. This book, published by Penguin, with multiple copies displayed in Barnes and Noble and other bookstores, and boosted by a rave in the NY Times, is going to be influential. It is a worthy and even revisionist work. Publishing history, especially in the case of censored and book-legged books, is well served by it. What he says is true, but why is it true?
Roth was the biggest literary pirate because James Joyce and the friends of the great writer publicized Roth's unauthorized but not illegal excerpts and underground complete edition with ruthless efficiency, manipulating public opinion in a way arguably as dishonest as Roth himself was. Joyce gave writers and journalists of the time just the right amount of information so that he would seem the undeserving victim, and Roth an unprecedented despoiler of contemporary literature. Some examples:
--Beach wrote that Roth did not pay Joyce for the "Work in Progress" episodes he published in _Two Worlds_. He did pay, tardily at first, and Joyce took the payments.
-- Hemingway grossly over-estimated the number of copies of _Two Worlds Monthly_ sold; the publicity repeated the exaggeration, either finding it useful or not bothering to check.
--The "mutilator of Joyce's work" (headline in _The Chicago Tribune_) is a phrase stigmatizing the outsider Samuel Roth. But what of Ezra Pound, who also expurgated the same passages Roth messed up, when Pound edited them for _The Little Review_? Neither Beach nor any journalist at the time mentioned that. To paraphrase a famous line from Forster's _Howard's End_, why could they not mention that what Roth did--with his self-interest in mind--they also did? The answer is that making a case for the legal publication and distribution of Ulysses in America was the ultimate goal.
Roth was a rascal in publishing _Ulysses_. And what of Joyce? Here is Sylvia Beach, Joyce's loyal Paris publisher in the 1920s: the "great loveable but merciless man" was "a great business man, hard as nails," with "one-sided business methods." He had no problem requesting she return the copyright so he could publish with Random House in 1933. Nor did he pay his lawyers after they successfully handled his case against Roth in 1928, and they did get the injunction Joyce wanted (he wanted more).
Samuel Roth, Infamous Modernist is now available as an EBook at the following links:



The book should be available soon in an iBook Edition
*****************************************************
Opening Jan 21: A display of papers, MS, books, dust jackets, and promotional advertisements in the Samuel Roth Archive at Columbia U. The display will be in the Rare book and MS Library, 6th Floor Butler Library. The event will be marked by a lecture by Prof Robert Spoo, author of Without copyrights: Piracy, Publishing, and the Public Domain
**PLEASE CLICK ON "HOME" ABOVE FOR SOME REVIEWS AND INTERVIEWS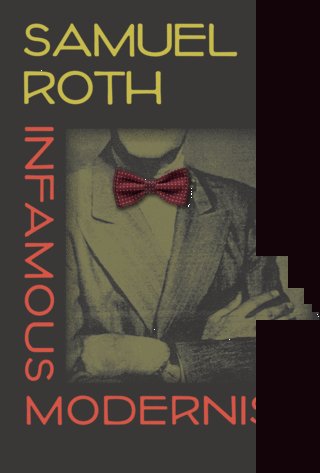 _Samuel Roth, Infamous Modernist_

"Gertzman's book speaks very importantly and convincingly about American-Jewish identity, censorship, modern publishing, and twentieth-century literature.But equally important is the story the book tells about an enigma—the puzzling,
contradictory, and often appealing figure of Samuel Roth, whose tortuous and fascinating trail Gertzman chronicles with wit and insight."
—Mary Dearborn, author of _Norman Mailer__
****************
"The first deeply researched and sustained biographical treatment of a man who has become recognized as a significant figure in American publishing, transatlantic modernism, and the development of obscenity law. . . . A penetrating and
unsurpassed portrait not only of Roth but of the country he inhabited."
—Robert Spoo, coeditor of _Ezra and Dorothy Pound: Letters in Captivity, 1945–1946_; _Ulysses, Bloomsday, and Copyright. YES I SAID I WILL YES_ (New York: Vintage Books, 2004).


**********************
"Gertzman is to be commended for braiding together so many underappreciated
strands of twentieth-century literary, legal, and cultural history."
—Paul K. Saint-Amour, editor of _Modernism and Copyright_

Samuel Roth is known to most literary scholars as a bold literary "pirate" for issuing unauthorized editions of modernist sensations, including Ulysses and Lady Chatterley's Lover. Those publications provoked an unprecedented international protest of writers, publishers, and intellectuals, who eventually vilified Roth on two continents.
Roth was a man with an uncanny ability to recognize good contemporary writing and make it accessible to popular audiences. Ultimately, his dedication to the publication of these works broke down many of the censorship laws of
the time, though he suffered greatly for his efforts. His story portrays a struggle with literary censorship in the mid-twentieth century, AND WITH HIS OWN IDENTITY AS A PARIAH, A BELIEVER IN AMERICA AND THE AMERICAN DREAM, AND A DEVOUT JEW WITH A SPECIAL MISSION ON THIS EARTH.

Jay A. Gertzman, professor emeritus of English at Mansfield University, is author
of three books, including _Bookleggers and Smuthounds: The Trade in Erotica, 1920–1940_
416 pp. | 6 1/8 x 9 1/4 | 25 b/w illus.
ISBN 978-0-8130-4417-0 | Hardcover $74.95 $30.00
*******************
AVAILABLE APRIL 2013
To ORDER:
CALL 800-226-3822 and have VISA, MasterCard,
American Express, or Discover number handy.
FAX completed order form to 800-680-1955.
MAIL completed order form with check payable
to University Press of Florida to:
University Press of Florida
15 NW 15th Street
Gainesville, FL 32611-2079


ONLINE at http://www.upf.com/book.asp?id=GERTZ001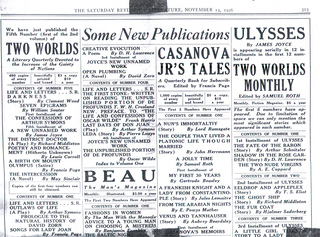 He was called "The Sleaziest Pig in the World" by a famous gossip columnist and was "nominated for oblivion" by Vanity Fair. But he would not have become the unique First Amendment Martyr he was if he did not appeal to a general audience interested in sex and sensation by defying the obscenity laws of the Post Office. That general audience was the one of which those in charge of morality, "taste," and public order were genuinely fearful. So Sam was in federal prison when the courts ruled Lady Chatterley's Lover a classic and therefore not obscene. Roth was as deceptive as any other advertiser and perpetually self-deceptive, self-hating, self-inflating, spiteful, and venal. And he was in flux, morally and professionally: "at war with himself and his race," he wrote (from prison). It's an American success tragedy: and more.

The entire dramatic spectrum of Sam Roth's career -- his sense of mission, struggle for fulfillment, and venal as well as spiritual neediness -- make it an exemplary twentieth century Jewish American one.

TABLE OF CONTENTS
Preface

One: 1893-1916: From a Galician Shtetl to Columbia University
Born in fire—a suicide on Yom Kippur—an early sexual initiation, and exorcism—the fighting founder of the Roth line—10-year-old Sam has a visit from Yeshea (Jesus); a rabbi goes ballistic—the Lower East Side: abandoned youth, teen age prostitutes, a crush on a movie star-- Sam's long- lasting estrangement from his father—Sam meets Emma Goldman, becomes a poet, and begins his career as magazine editor

Two: 1917-1925: Prelude to an International Protest: A Rising, Pugnacious Man of Letters
A bridegroom's dark fears—Did Sam love Pauline, Frank, or only himself—his Poetry Book Shop, and intro to porno—friendship with other poets, esp. Edwin Arlington Robinson—London trip: Zangwill, Eliot, Pound, H. D., and Joyce— abandons his London mistress—resourceful Sam founds a school for immigrants, makes money—begins Two Worlds

Three: 1925-27: "Damn his impertinence. Bloody Crook": Roth Publishes Joyce
Roth publishes excerpts from Joyce's "Work in Progress," and pays – publishes excerpts from Ulysses, without permission (offers to pay after the excerpts appear)—Roth "conspewed" from the literary profession as "King of the Jews," thief, scoundrel –International Protest against him – Joyce uses it to get Ulysses published in US – what Roth did, Joyce also does-- Joyce: "gentle Jesus" and "merciless" businessman—who "mutilated" Ulysses?

Four: 1928-34: Roth Must Live: A Successful Business and Its Bankruptcy
"Pornography"-laden warehouse raided; Roth had put it in his brother's name, so he—went to jail. Roth too, for breaking parole. Establishes successful publishing house, specializing in scandal (Met opera singer kept in sex slavery! Lady Chatterley's friends. The secret lives of Rudolph Valentino, a French chambermaid, and Frank Harris. Three important books: A Scarlet Pansy (transvestite life in early 20th century), A Gentleman in a Black Skin (exploitation of talented African-American by midtown sculptress), Strange Career of Mr Hoover (a minor contribution to Hoover's defeat). Roth's complex treatment of voyeurism.

Five : 1934: Jews Must Live. "We Meet Our Destiny on the Road We Take To Avoid It"
Roth's response to people whom he thought tricked him into bankruptcy: Jews Must Live (JML), an anti-Semitic diatribe published just after the Nazis came to power (they advertised it themselves) . The motive: spite. Roth now ostracized from fellow Jews as well as the literary establishment. JML as rebellion against Roth's father. The pre-Nazi sources of JML. The conclusion: is Roth suggesting he is a Judas?

Six 1934-39: A Stretch in the Federal Penitentiary
"Vhere iss sex?"—at the Fifth Ave. Book Shop. The Post Office's "pandering" criteria. Porno, subway lockers, FBI spies, and three years in federal prison. Prison writings: the "Transfiguration" of Hitler after meeting Yeshea and a beautiful Jewess; result: a homeland for the Jews. Roth meets a former lover, in a dream vision full of Hasidic folklore transformed by his own imagination into a powerful set of stories about Destiny and judgment in the True World.

Seven: 1940-1949: Roth Breaks Parole, Uncovers a Nazi Plot, Gives "Dame Post Office" Fits, and Tells His Own Story in Mail Order Advertising Copy
Roth almost sent back to prison for distributing erotica. Possibly, his service to the FBI in breaking a German spy ring excused him. He gave information about a ringleader, who was a good friend and the subject of one of his most successful Faro books. His mail order bookselling began in 1942 and for 15 years was lucrative. His genius at teasingly sexual but not obscene advertising copy. The post office opens an office just to track his circulars and mailings. Their "unmailable," "pandering," and "fraud" accusations. In several books, Roth changes the text or adds introductions describing his achievements. He uses his criticism of contemporary fascination with sterile voyeurism to induce sales: "sex crimes begin at home," "beautiful sinners of New York," "the woman- juice our readers like to lap up."

Eight: 1949-1952: Times Square, Peggy Roth, Southern Gothic, Celine, and Nietzsche
Roth replicates Times Square erotic bookstores in his mail order offerings for rural readers. Several offerings are informative, documentary, and original, especially the Southern Gothic novels. Richard Roth's wife: blacklist victim and Roth editor. Milton Hindus, seeking reasons for Louis-Ferdinand Celine's anti-Semitism, produces a brutally honest analysis of his own motives. Roth publishes My Sister and I purportedly Neitzsche's last work (did he commit incest with his sister as a child?). Purportedly written in the asylum at Jena after the great philosopher's mental breakdown, it is still convincing to some. Would Samuel Roth perpetrate a hoax?

Nine: 1952-57: The Windsors, Winchell, Kefauver: Back to Lewisburg
Roth's defiance of post office, British Board of Trade (re book charging Duke of Windsor with homosexuality), Walter Winchell, and Estes Kefauver (at senate subcommittee hearing regarding his distribution of erotic materials as cause of juvenile delinquency) lead to 24-count indictment and five-year sentence in federal prison. Roth v. US (1957) Supreme Court case: the most important liberalizing First Amendment decision regarding freedom to read. Roth, ironically, on his imprisonment: "Although the books are good I am bad." Roth's contribution to the American people's freedom to read

Ten: 1958-74: "It Had Been a Long Time since Someone Like You Had Appeared In the World": Roth Fulfills his Mission
Roth's novel about his accompanying Yeshea on his mission to Jerusalem: My Friend Yeshea: A life "painfully repoured . . .from the vats of the Real World into those of the True." After 5 years in prison, back in business. Retirement and final writings: "redactions" of the poems of Heine, a biography of Heliogabalus, the teenage transvestite emperor of Rome—and a powerful set of poems, The Israeli Davidia, or Psalms of David. The end.

Appendix: Samuel Roth's Imprints and Business Names

Bibliography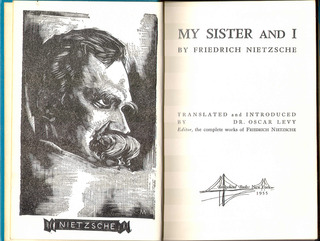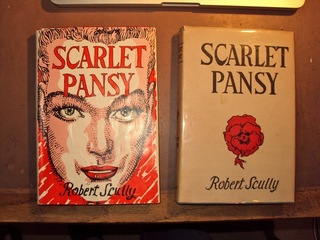 " ...a major work of scholarship on the book trade that should be of considerable interest."
–AB Bookman's Weekly, July 26, 1999
" ...an important contribution to understanding the growth of free expression in the twentieth century."
–BOOKS-ON-LAW/Book Reviews, December 1999